Driving E-commerce Sales
Enhance your e-commerce revenue
Don't miss out on customers just because you don't have payment options that work for their budget and schedule. Partial.ly payment plan software allows you to create thousands of customized payment plans and manage them through one intuitive platform.
Made for your Business
Seamless integration for a streamlined e-commerce experience
Partial.ly integrates with your existing e-commerce platform so you can easily offer your customers the ability to pay for items over multiple installments directly through your storefront. You set the down payment, frequency, and duration of the payment plan and we handle the processing without any hidden fees or credit checks.
See Integrations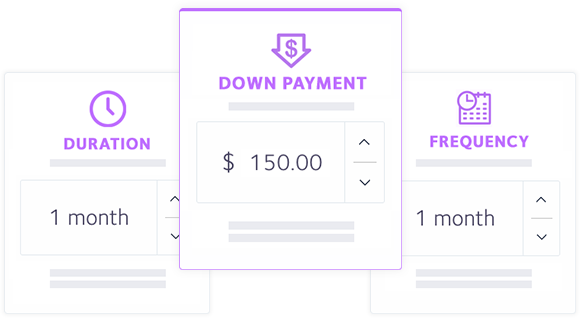 Seamless integration for a streamlined e-commerce experience
---
Easy Automated Payments
Automate billing according to customized payment schedules.
Customer friendly plans
Increase sales by working with customers to set payment terms that work for both of you.
Flexible Manual Payments
Payment schedules are adjusted automatically after processing custom payments.
Global E-commerce Ready
Available to businesses in over 30 countries (and growing).
Total payment plan control
Set the terms of payment plans to match your business processes.
Industry leading security
We follow best practices for encryption and don't store customer payment information.
Convenient merchant portal
Manage all your payment plans in one place.
Automate communication
Send and receive payment plan activity for better visibility over transactions.
Cash in the bank
Monitor payments and route money directly to your bank account.
Make more purchases possible with Partial.ly for invoicing
You don't have to be an e-commerce merchant to take advantage of Partial.ly's' payment plan software. Set up flexible, credit-free payment plans for your business to accommodate customers who want to pay in installments without the hassles of financing.
See Partial.ly for invoicing